COMMISSIONS ARE OPEN
Nada Khatib's original paintings have consistently appreciated in value. Investing in a work of art by Nada is a collaborative and meaningful experience. The result is a unique piece of artwork that is fully customizable to your preferences to last more than a lifetime. This personalized piece bring a sense of connection and significance to your space that cannot be replicated.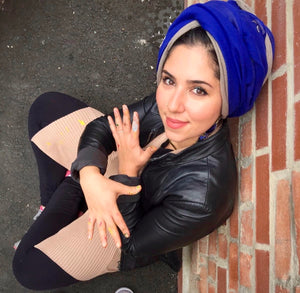 THE ARTIST
Nada Khatib (b. 1989) is a Canadian artist and professional palette knife painter born and raised in Toronto with Syrian and Turkish roots. She began painting in 2006 before obtaining her Bachelor of Arts degree.
Nada's professional career began in the corporate and start up world until she took the risk of a major career change to pursue her ultimate dream. Since founding Expression By Nada in 2018, Nada she has participated in over a dozen exhibits, sold over 500 original paintings and taught over 150 art classes.
Nada's growing popularity lies in her ability to create luscious paintings with intricate details and spectacular color choices. After hundreds of hours honing in on her craft, she has innovated techniques that make her art recognizable to the masses.
MORE THAN JUST ART.
Expression By Nada was established in 2018 and is founded by Canadian artist, Nada Khatib. Our company aims to ignite hope and uplift spirits through our fine art, stationary, art tools and education. Our mission is to not only beautify the world, but also to inspire other artists and our community.
Our artwork is for modern nature lovers who want to bring a sense of life and joy into their sacred spaces, homes and offices. Proudly owned by hundreds of collectors across the globe, Nada's artwork emits positive energy and a sense of connection to the deeper world around us.
We believe art should be accessible and inclusive. That's why Nada's artwork and designs are available in multiple forms of functional art. Our textures can be seen and enjoyed through all of our products.